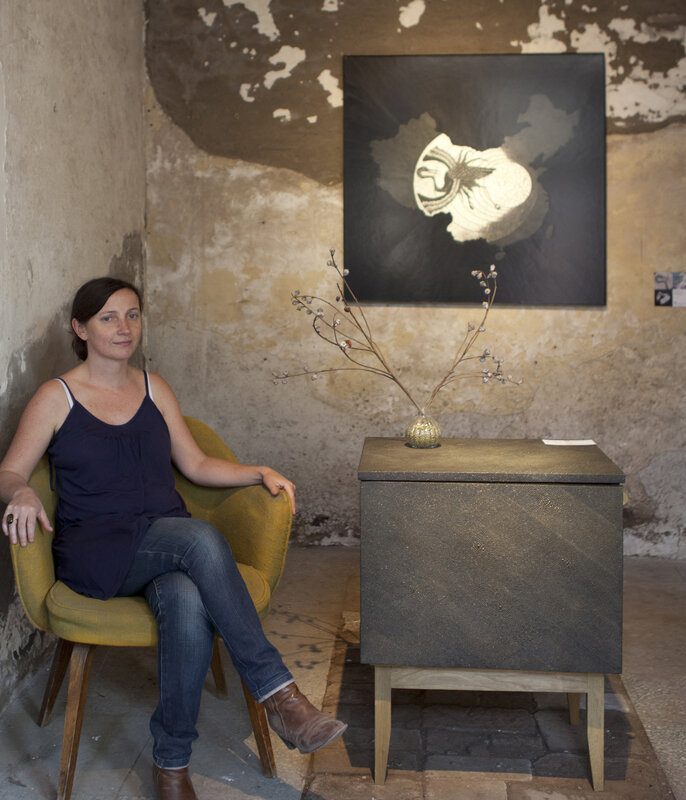 Furniture designer & Lacquer

Customs made pieces
Unique pieces
Decor with eggshells inlay, rayskin, silk fabrics, gold leaves
Furnitures & Pictures lacquered or varnished or waxed
Born in Paris in 27 november 1973.
Before creating her furniture designing company Gcdk De Sign in 2004, Gwen worked 8 years in the broadcasting industry, in a documentary production firm, as a product administrator, writing scenarios and directing documentary movies.
While she feels the need to change professional life, eager to follow craftsmanship, she jumps into professional art and craft studies, between 2000 and 2004 (wood and marble imitation in decorative painting, initiation to lacquer with Catherine Nicolas)
In April 2005, Gwen opens her studio in Paris.
She initially focuses her scope of work on old furniture, with a large interest in its possibility to mix the history with contemporary lines. Using old pieces of furniture from the 20's to the 60's discovered in second-hand, she gets inspired by the lines until she manages to interact with the shapes while questioning it's function. The piece then becomes Object.
The furniture is fed with materials such as eggshells, shagreen, gold leaves, silk. She re-thinks and gives a second life to the Object in order to create unique pieces.
Since 2008, Gcdk De Sign continues it's way in China, crossing identities between antiquity and modernity. Gwen combines therefore Chinese and French cultural heritage in her new creations.
Gcdk De.Sign, is also the realization of pictures representing "Maps of China" a take on Chinese heritage and symbolism.
All theses pictures are lacquered with eggshell inlays. The different colors of eggs available in China allow multiple graphic answers. Above finally comes the lacquer coating - the unifying element of her compositions; through its satin finish and smooth touch, the transparency and depth of the colors are revitalized.
"Eggshell drives the design. For example, its hardness and mosaic quality throws into relief the omnipresence of people across the land. I've always been fascinated by maps and especially in reading them differently depending on the graphic chosen. To talk about China, it was an evident to me to use eggshells, it allows details and being precise on the point of view that I want to talk about."
Gcdk De Sign is a work of art witch mixes precious craftsmanship and multicultural heritage.
Gwenaëlle Chassin de Kergommeaux